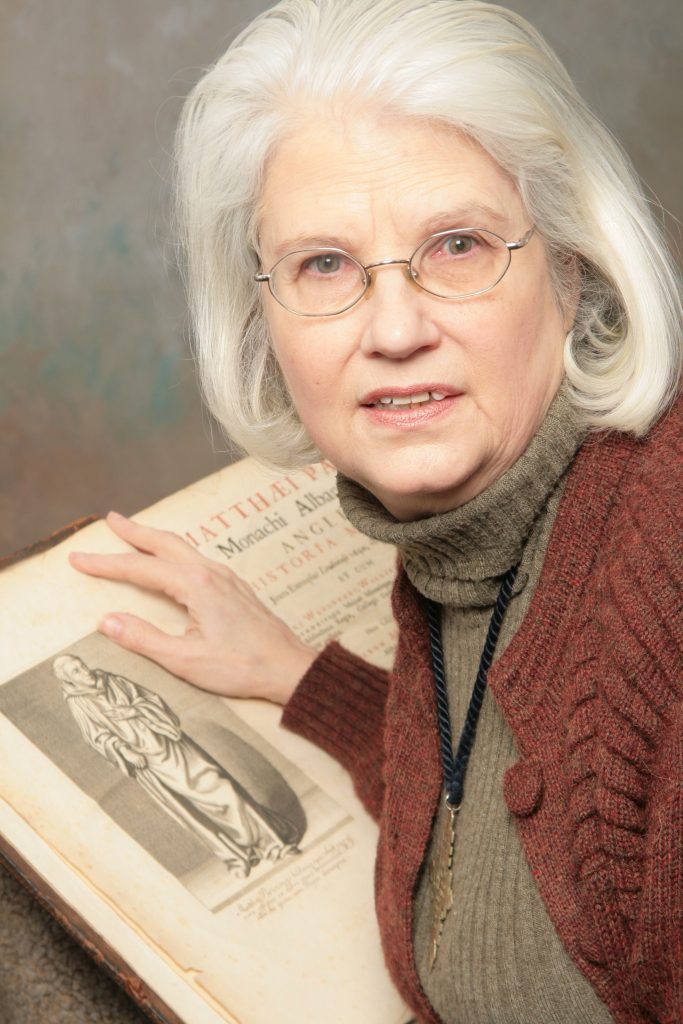 Katherine Ashe is an author, playwright and screenwriter with six books in print and some twenty original plays, screenplays and radio dramas to her credit, many of them written on commission.
Katherine's four-volume novelized biography Montfort, the product of 35 years of research, was 30 weeks on the Amazon historical-novel bestseller list.
She produced and directed seven shows, chiefly historical drama mini-series for The Jefferson Radio Theater, for Public Radio.
Katherine grew up in the film world and her father, Fredric M. Frank *, was senior staff screenwriter for Cecil B. DeMille and screenwriter of El Cid. Now Katherine returns to her roots as she plans an epic feature film and/or television series of Montfort. Take a look at the Pre-production graphics (one-sheets).
She began her professional life as a painter, showing at the Dorsky and Braverman Galleries in New York in 1963-64. In 1971-77, her Contemporary Artists Inc. published 14 editions of limited-edition fine-art prints, including works by such major artists as Romare Bearden, Red Grooms, Ilya Bolotowsky, Clayton Pond, Richard Anuszkiewicz, Janet Fish, Barbara Sandler, Deborah Remington and Joseph Raphael. Read more about these artists and their work.
* Katherine Ashe was born in 1943 and named for her mother: Ann Frank. When in 1976 she seriously considered writing books a name change was necessary to avoid confusion with Anne Frank the famed child autobiographer of World War II. She took the name of her nearest cousins, who advised her that she needed a three syllable first name, hence Katherine. She is no relation to the KathArine Ashe who writes romances and began publishing in about 2010.
Vriesland (miniseries)
The Richest Woman in the Western World (miniseries)
Being Murietta (miniseries)
A Life for Love (miniseries)
The Christmas Angel and The Little Fir Tree (NPR Christmas broadcast for two years)
Money Radio (comedy fund-raiser for public radio)
Johnny! (commissioned by the Scranton Cultural Center as part of the National Celebration of Labor for the Year 2000)
An Evening with Edgar Allan Poe (commissioned by the New York City Parks Department/Historic House Trust)
Columbus (written for the 1992 Columbian quincentennial)
The Medicine Man (about her Mohawk grandmother and great-grandfather)
Burton in Africa (one-act play)
Supper with the Pope (one-act play)
The Treasure (a young woman joins a convent in the Pyrenees as the nuns hide the Belgian national treasure from the Nazis
The Washingtons (13-hour TV series)